Why apply to Moneybarn?
We only use a soft search at application, which means it won't affect your credit score.
Specialise in poor credit
We accept IVAs
We accept CCJs
Motorbike finance, couldn't be easier
We can help walk you through the entire finance process. To get started you will need:
Monthly earnings over £1,000 (after tax)
To be aged between 25 and 65
Valid A1, A2 or A UK motorbike licence or a valid CBT certificate
2 consecutive months of payslips or bank statements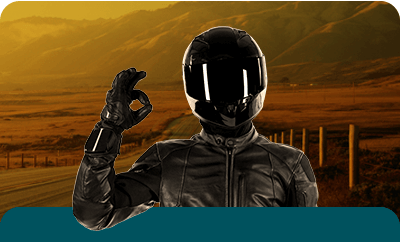 Don't just sit there, get out on the road
Our broad finance options should help you find your perfect motorbike. We can offer a product for:
Financing a bike from £2,500 – £15,000
Engine sizes from 125cc upwards
We accept motorbikes up to 6 years old
Flexible terms – you set the payments, want 41 payments . . . no problem
On average our customers rate our service 4.7 out of 5. (April 2018)
Representative example: £6,374 repayable over 46 months. 45 monthly payments of £251.74. Rate of interest 39.6% P.A. Fixed. Representative 39.6% APR. Total amount payable is £11,328.30 (excluding deposit)
Credit you can trust
Moneybarn is a member of the Finance and Leasing Association, the official trade organisation of the motor finance industry. The FLA promotes best practice in the motor finance industry for lending and leasing to consumers and businesses
Moneybarn is the trading style of Moneybarn No. 1 Limited, a company registered in England and Wales with company number 04496573, and Moneybarn Limited, a company registered in England and Wales with company number 02766324. The registered address for these companies is: The New Barn, Bedford Road, Petersfield, Hampshire, GU32 3LJ.
Moneybarn's VAT registration number is 180 5559 52.
Moneybarn Limited is authorised and regulated by the Financial Conduct Authority (Financial Services reference No. 702781)
Moneybarn No. 1 Limited is authorised and regulated by the Financial Conduct Authority (Financial Services reference No. 702780)